Retreats for Women Seeking More
Isn't it time for you to see the world?
Join us for a getaway full of personal growth!
Look no further. Join me for Outrageous Adventures for Outrageous Women, my uniquely designed and curated retreats and experiences for creative and adventurous women just like you. I'll be your guide as we explore our feminine energy in cities like Paris and New Orleans, tap into our inner queendom in castles in the romantic French forest, and learn about leadership in Blue Ridge Mountains. My retreats are strictly limited, typically to 6-8 women, allowing for an intimate learning and travel experience.
Live Outrageously retreats are a must for women looking to explore the depths of who they are. Not only are they jam-packed with VIP treatment, but the atmosphere created is safe and beautifully fit to expand your mind and allow you to "be" at the same time. I am looking forward to so many more.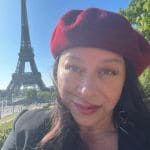 - Dawn P.
| Mortgage Underwriter, Pennsylvania
Photos from Past Adventures