One of the very best things about living outrageously is that there are no rules when it comes to personal style and flair. As we work on our personal presence as leaders, we get to wear whatever we want, whenever we want — especially if it makes us feel confident and authentic wearing it!
So why not challenge the status quo and join us in our quest to wear more winter white this season?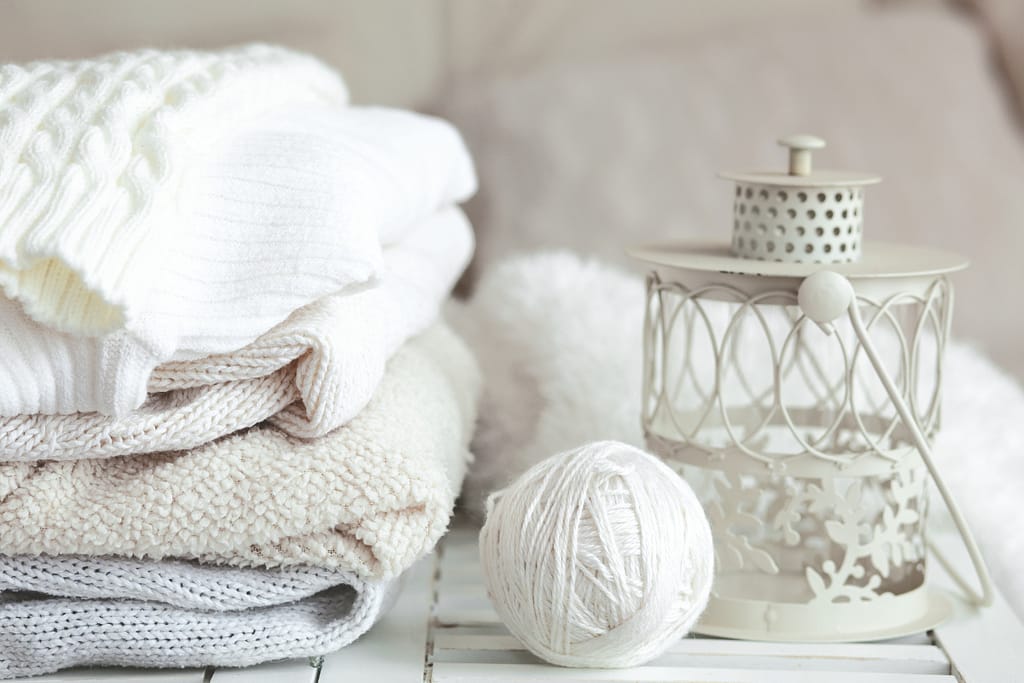 Not only is figuring out your personal style meant to be outrageously authentic, it's also supposed to be fun. And who doesn't love a good fashion challenge? So let's go ahead and rock that winter white despite what our grandmothers told us about not wearing white after Labor Day!
Now, we know what you're thinking. Wearing white in the winter is unheard of! How could you possibly pull it off without looking like a ghost?
Fear not, fashionista. We're here to help you style the perfect winter white look that will have you looking chic and feeling confident all season long. (And we promise it can be done without looking like you're headed to a tropical beach instead of the office.)
Nervous? Let's start with the basics.
If you're just starting out and are a little worried about looking like you're headed to a toga party, pair your winter whites with other neutrals like grey, black, or camel for a classic and sophisticated look. Keep it simple. Trust us, this is easy — think white turtleneck with black blazer and charcoal slacks. Very effortless chic and perfect for work or drinks afterwards.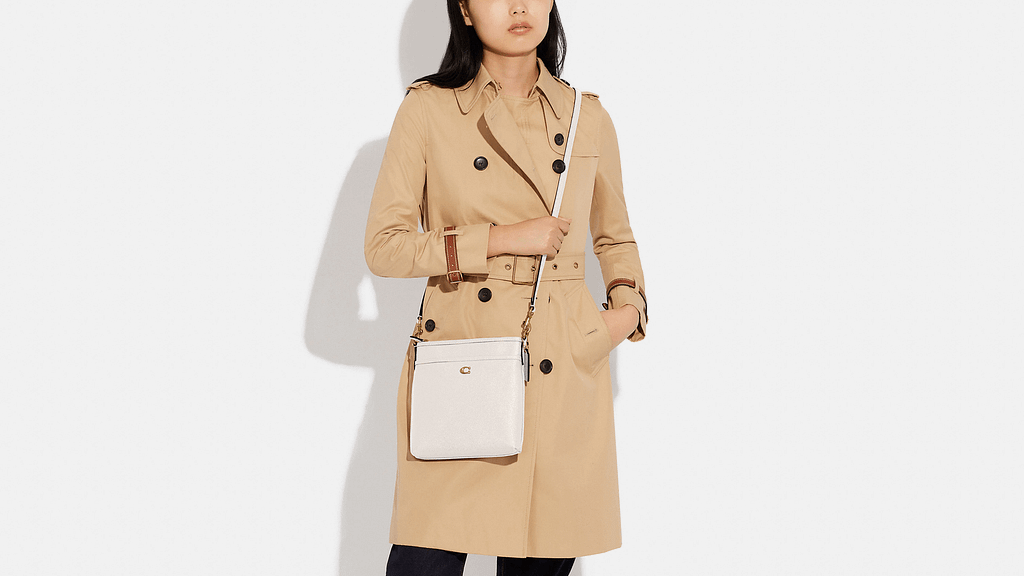 Feeling a little more confident and want to add a pop of color? Go for it! (This is your fashion challenge after all.) A winter white dress with a brightly colored scarf or coat is always a show-stopping look. Or, if you're looking for something a little more subtle, try pairing white with a pastel shade. (Yes, you can wear pastels in the winter, too.)
Want to go a little bolder? Mix your winter whites with jewel tones like deep greens, rich purples, or even reds. This color palette is perfect for holiday parties and will definitely turn heads!
Top 5 Tips for Wearing Winter White
Now, if you are feeling a little more courageous and ready to go all-in to make a splash, let's talk about some tips and tricks to help you wear winter white like a truly outrageous style pro:
1. Go Monochromatic
One of the best ways to wear winter white is to go monochromatic. That means pairing different shades and textures of white together to create a cohesive look. For example, you could pair a ivory turtleneck with a snow-white pencil skirt and a cream-colored blazer. Monochromatic dressing also has the added value of making you look taller and slimmer… yes, even in white!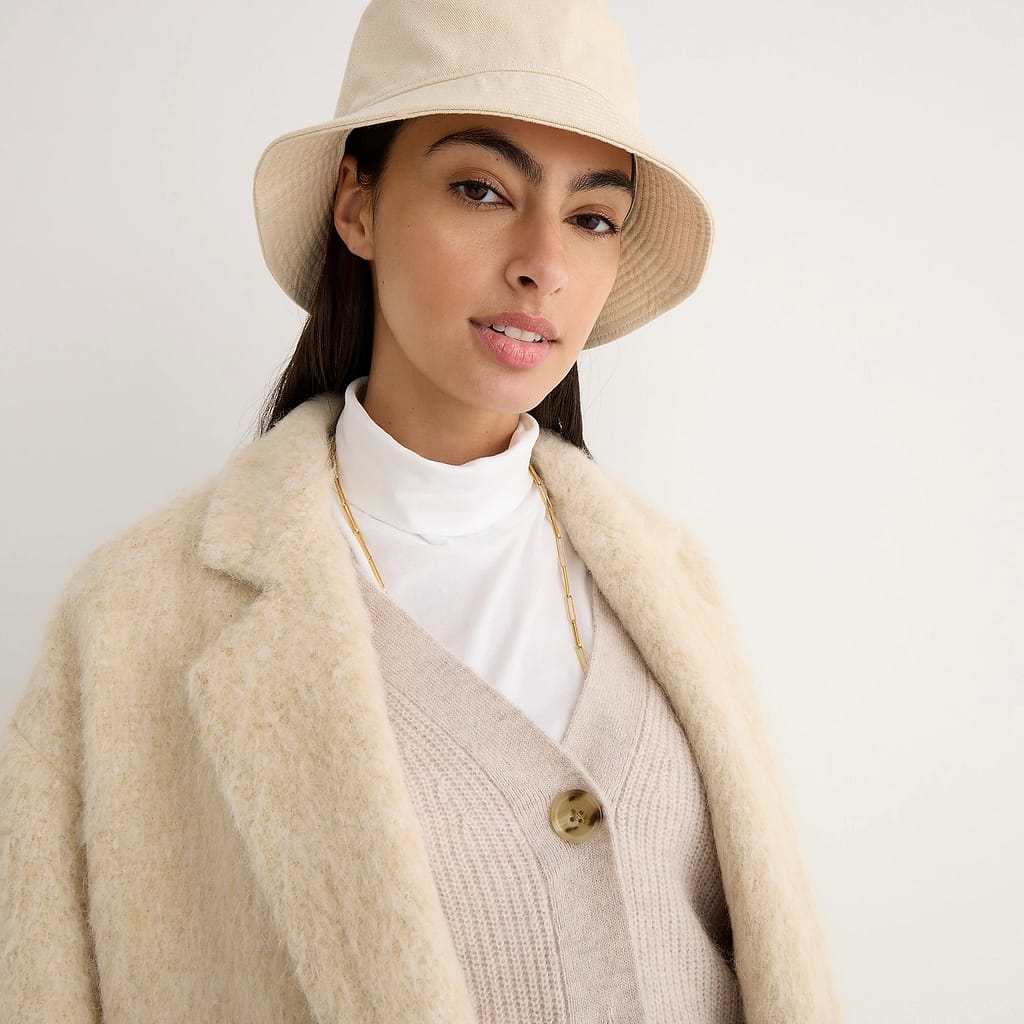 We love the elegant chic of monochromatic dressing — it makes you look taller and slimmer, after all! But don't forget to add just the right amount of contrast with some color or texture.
2. Add some texture
To add visual interest (and to avoid looking like you're wearing a sheet) to your winter white outfit, mix different textures and fabrics. Try pairing a lace top with a wool skirt or a cashmere sweater with denim jeans.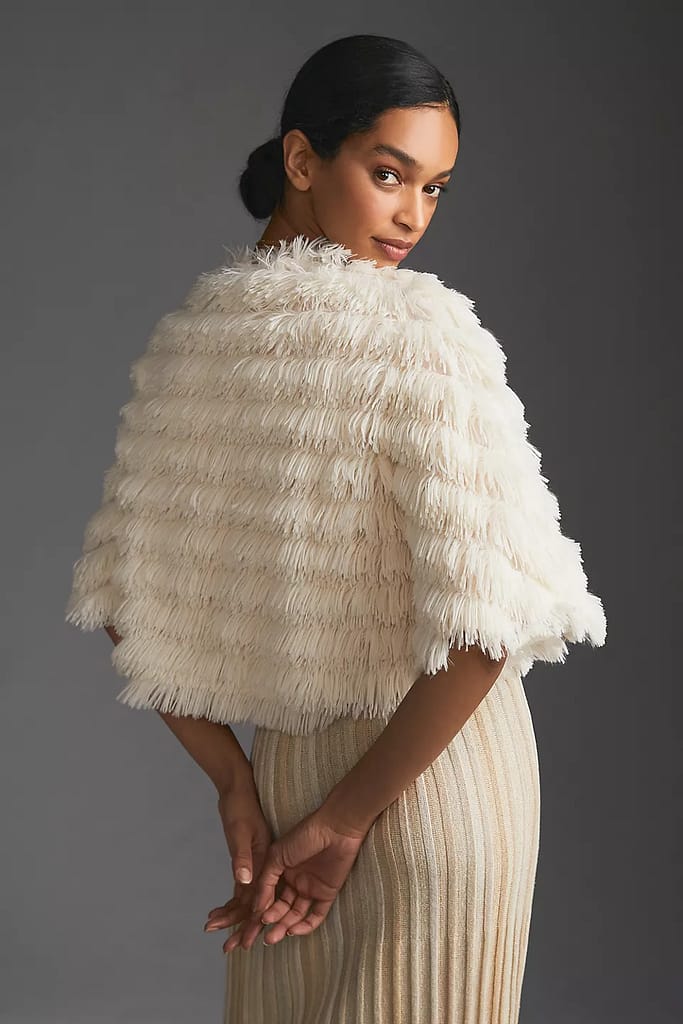 One of the best things about winter fashion is the opportunity to embrace layering! And this is especially true when it comes to wearing white. For example, you could layer a chunky white sweater over a crisp white shirt and pair it with a great skirt. Or, for a more casual look, try layering a white tee under a cozy cardigan. Not only will the different textures add interest to your outfit, the layers will also keep you warm during these chilly months!
3. Add Metallic Accents or Pops of Color
Adding a few metallic accents is a great way to add some visual interest to an all-white outfit. Try pairing a white dress with silver jewelry or adding a gold belt to a pair of white pants. You could even go for head-to-toe shimmer with a sequined top and white jeans.
4. Accessorize with Flair
One of the best things about wearing white is that it provides the perfect blank canvas for your accessories. So have fun with it! Try a pair of over-the-top earrings or a statement necklace. Or, if you're going for a more understated look, try a great pair of shoes or an elegant handbag.
Accent a white dress with a great belt or a white blouse with a statement necklace. And don't forget that shoes can also be a great way to add a pop of color or texture to your outfit.
Not only will your accessories add a pop of color or visual interest, they'll also help to define your personal style and make your outfit more unique. So have fun with it and let your personality shine through!
5. Use makeup to your advantage
If you're worried about looking washed out in white, use makeup to your advantage! A little bronzer or blush can go a long way in giving you some color. There's no need to overdo it – you can still keep that natural look, just be sure to brighten up your cheeks a little. And… a great red lip (we recommend Red Velvet Butter Gloss by NYX) is the perfect way to add some drama to an all-white outfit and capture that French-girl "je ne sais quoi".
Revamp your "Sofa Chic"
If you aren't 100% sure about wearing white to the office or your upcoming holiday festivities, don't be afraid to treat yourself to some fuzzy, cozy loungewear and upgrade your "sofa chic" (as we like to call it). Why not get yourself some pretty lingerie or some cute slippers that embrace the winter wonderland? There's always a way to join the Winter White Style Challenge, even from your couch!
Go be outrageous!
So there you have it! Five tips to help you wear winter white like a style pro and take part in our Winter White Challenge. So go ahead and give and give it a try — we promise you'll look fabulous!
Want to share your looks? Tag us on social media with #winterwhitechallenge! We love it when people share!